My wife's learning machine(s)




My wife was having a difficult time on the VLX, she simply wasn't comfortable learning on it with zero riding ability. Besides, she really wanted a Rebel from the get-go, so I broke down and picked one up for her. A '96 250 (on the left) that looks about as pristine as you could ask for, and it saw some healthy service time w/17K on the clock so it wasn't a learning bike that spent the last few years forgotten and buried in somebody's tool shed.

I also acquired an earlier vinatge 250 Reb, an 85 model (on the right) that served as a "drop" bike. The wife got her first newbie spills out of the way on it, and for what I paid for it I ain't complaining...far less than the price of a new gas tank. It is functional but needs a lot of work to make it safe and sane. It starts. It runs. And that's about it, aside from looking to be in somewhat decent-to-average shape. It has a lot of electrical issues with the guttted, cut, and hacked up wiring harness. I have used it for some cheap thrills off the road a few times, but ultimately I want to put it up on the chopping block...scroll down for the fruits of that project.
Be sure to check out the poll on the Contact Page, vote for your fave bike inthe Shadow Shack. Both Rebels are in the poll, just because they aren't Shadows doesn't mean they're not in the Shack!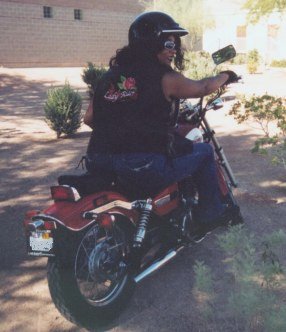 "Lady Rider"
I think she likes it...
Full House
One garage. 7 bikes. A truck. Big grin...

"Nifty 250" Rebel Chopper Project
aka "the cheaper chopper"
"the Vision"
If it doesn't look halfway decent photoshopped, why bother?
I liked it and bothered away!

Lopped off those nasty "Muffler Cones"
with a triple wall OEM headpipe, it took a while even with power tools



7 steps to mounting the replacements:
1> acquired 1 1/2 to 1 3/8 inch adapters, it worked for a Rebel forum member w/JCW reducers
2> It didn't work for me, his pipes were cut at an angle. So I cut off the smaller part as two reducers fit on it
3> cut the smaller piece open
4> slip said piece over the headpipe as its own collar
5> retrieve the JCWhitney reducer collars
6> Insert two into the muffler
7> Like the caption says, now it fits like a glove

"Legends Start with Modest Beginnings"
Raked CMX250 frame, 44 degrees
(special thanks to Jack & Ken at the Rebel Warehouse)

Chopper Mock-up Pic
needs longer forks to maintain proper ground clearance
Looks like the prescribed 7" over forks oughta do it...

Wired & Hung
Wiring harness and 13" ape hangers added
Still need 7" over forks and associated cables/lines
Modified Shocks
Shortened one inch courtesy of Pete at SOTMC.com

Rolling Chassis
Longer forks finally added

Motor Slung, Engine Painted, Solo Seat pan ready
75% complete!
Lookin' mighty fine...
and how 'bout them upswept fishtails?

New handlebar end weights
a la .50 BMG
TALES FROM THE WALLET
Initial Bike Purchase: $200
Frame parts & labor for added rake: $400
Fishtail Mufflers w/reducers, clamps, etc: $90
Ape Hanger bars: $72
7" over fork tubes: $216
Shortened rear shocks (Pete @ SOTMC.com): $65

Misc new parts: flared wedge marker/directional lights ($35), Maltese Cross tail light ($16), Maltese Cross mirrors (leftover from another bike...no extra charge!)

E-Bay scores: replacement wiring harness w/all components ($10), chromed rear drum cover ($30, not on yet...don't ask), extra switchboxes for longer electrical line splices ($10, color matched wires!)

Still required for completion: 49" brake line (approx $50), +6 speedo line (or extension), clutch, throttle, and choke cables (haven't priced yet), K&N pod filter and carb rejet (no estimate)

Wish List: Kick start mod (got the assembly already, just need to splice it on), second headlight (one up/one down), plated swingarm (scored a spare on E-Bay for $10), powder coated bodywork, relaced wheels (wider rear, taller front)

Beginner Bikes Monthly Editorials