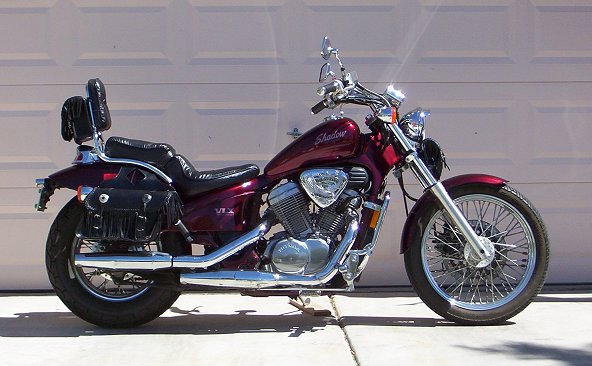 <<< A sweet first year model
It's an 88 VT-600C, the birth of the Shadow VLX. It came with a Honda-line sissybar and radiator guard, along with a wiondshield and Willy & Max bags (both have been removed, the shield mount broke and the bags were in rough shape). I've done a little to the bike since then: added a headlight visor, new luggage, air cleaner cover, and a tail light cover along with swapping the smooth seat for my 97 bike's button tucked one.
The Sprocket Mod (aka changing the final gear ratio)


Experiment #1

I went with a steel (aluminum sprockets wear much quicker) 41T rear sprocket from the OEM 44T on my stock bike. After 8000 miles I decided I didn't like it, it lugged too much during take offs in town and also when in the higher gears on the uphill grades which killed the fuel economy with constant downshifting (although my city riding fuel economy did increase by a couple mpg), and while I never took a passenger during this time something just tells me that wouldn't have improved things much...Freeway fuel economy dropped, I used to get 60mpg or so on the freeway and that dropped to about 45 (and let me tell you, if you've ever been in Nevada it's a scary feeling flipping your reserve after 93 miles out in the desert and not a gas station sign in sight). I never achieved a top speed (which on paper should have been higher), with stock set up I could nail 100+ without any effort and with the reduced ratio it took over a mile to go from 85 to 90 and that's on Nevada's long flat stretches of highway.

Here's another before/after comparison: On the way to the Laughlin River Run (which is a 99 mile trip from my driveway) there's a generous 6% uphill grade that lasts for about 5 miles or so on the way there (followed by the same grade going downhill), just before Laughlin. With the reduced gearing, I rode solo that year I took said grade in third gear for most of the hill and was getting passed by just about everyone, not to mention I had to stop for gas along the way in Searchlight (about the halfway point).

The following year after reverting back to stock sprockets, I took my wife (who was my girlfriend at the time) on back and some gear, which was far overloaded according to Honda's maximum safe load capacity, and I took that hill in top gear all the way without a problem, passing slower traffic, didn't stop for gas until arriving in Laughlin, and managed 61mpg.

So unless you have any performance upgrades (pipes/air kit/jetted carb) or your normal riding conditions don't involve many elevation changes, I wouldn't recommend it on a stock VLX. I presume these performance mods would negate my issues, but I didn't try them as I ride this bike year round through varying elevations and climates so I don't want to be hassled with the jetted carb issues along the way (stopping to fiddle with the pilot screws). In the end I was happy to revert back to stock sprockets. The engine was working too hard for the most part, in and out of town.


Experiment #2

Being a little leary after the first attempt, I decided to try something different this time. On my hardtail (with the performance pipes and hypercharger) I took a gamble on going "the other way," meaning raise the gear ratio. I went down to a 15T front sprocket (from the stock 16) to see what gains I could get in acceleration.

First off, the first two gears require shifting sooner than before, with stock set up I was able to wind second out to 65mph (and once in a while up to 70) before the rev limiter kicked in. Now first gear it hits somewhere between 35-40 and second comes around 55 or so. Which I initially found a little disappointing, but it was expected.

Now when you hit third gear, this is where it gets interesting. Before the rev limiter kicked in around 80mph, third can be stretched a little further now (I got it close to 90 once) and I haven't tried a top speed yet, I keep running out of road or encountering traffic by the time I hit fourth.

Needless to say, for a quarter miler the bike jumps much quicker now. But here's the downside (again which was anticipated/expected): freeway riding sucks. If you thought it was bad with stock gearing it gets worse with increased ratios. That buzzy feeling that comes around 75mph hits you earlier now, granted I have no rear suspension to absorb the road vibes, but 65mph was shaking my fillings loose for the extended freeway ride.

Fortunately, this bike isn't my freeway ride and I rarely take it there in the first place (well, I did ride it to Laughlin last year before the exchange), it's my city bike, my bar hopper per se, so for that role the mod works well. But again, on my everyday ride I'll leave it alone.

Archived Beginner Bikes Monthly Editorials



VLX Riders Forum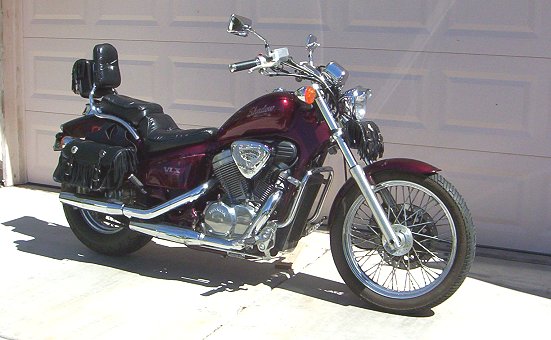 From the front
There's that seat...everyone that got a smooth one wanted a button tucked one. Everyone that got a button tucked one wanted a smooth one. So I was no exception, and swapped them over between the two bikes!